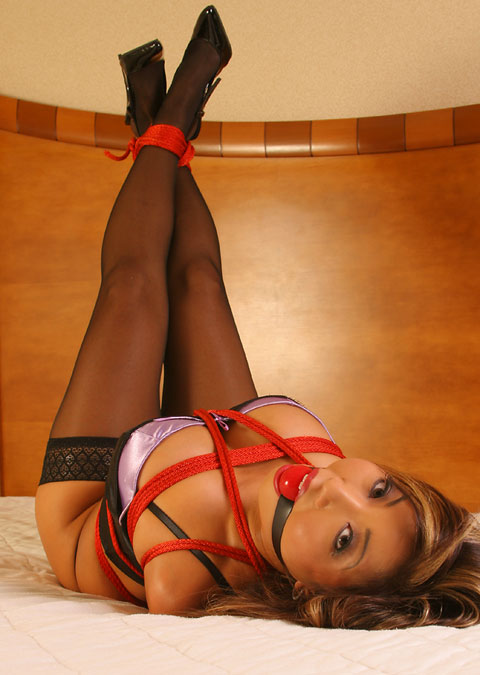 I have always had my kinkier side although I kept it private for most of my life even from lovers. Once I was out on my own and after several years of the corporate life, I began to do some glamour modeling and several movies for Playboy and those late night Cinemax unrated deals. If you are interested in just how I got the nerve to pose nude and more of my growing up, please check out my extended bio.
To make a long story short, modeling, acting and internet marketing became my livelihood and before long the fetish community came calling and I am glad they did! Little did they know that I was more than a pretty face, but a lady that had an interest in all things fetish related and who has a little bit of practice in her private life and fantasies.
Anyways, riggers were overjoyed when they found that I can easily touch my elbows behind my back and enjoy being immoblized (and druel a lot). I have been hogtied, mummified, suspended, taped, ballgagged, magic wanded, blindfolded and who knows what else. And I loved it and enjoyed (well most) every minute of the work.
I mentioned above that my private life sometimes entails bondage - nothing too heavy but I like being tied up and taken advantage, especially while blind folded can be quite exciting.
Why this website. The answer is simple, I have been asked so many times to do so and have finally taken the plunge. I have a limited amout of bondage content that I can share with the world and don't often produce my own content, so for the time being AkiraLaneBound will be a token operated site and I will update as frequently as I come up with new bondage work. In the meantime, you can always find me on many other bonndage sites (see links). For you well rounded folks, I also run a nylon and leg fetish site, Pantyhose Lane along with my personal site, Akira Lane.
All those sites keep me tied up, and hopefully much more so (wink) in the near future.
Aloha nui loa,

Akira